Does teeth whitening seem like a good option for you? Call Good Samaritan Medical & Dental at 9522 3313 today to see how we can help you with white, bright, and healthy teeth.
If you are unhappy with the colour of your teeth, why not explore teeth whitening with our top-notch dentists at Good Samaritan Medical & Dental? Our team provides a wide range of teeth whitening options that will completely transform your smile.
Affordable Teeth Whitening Treatments
Stains accumulate on teeth over time, so routine teeth whitening is an excellent way to keep your smile bright. There is a range of teeth whitening products currently available in Australia, and Good Samaritan Medical & Dental supplies only the best options to our valued clients. A high-quality product has lasting results and typically offers a more cost-effective dental solution in the long term.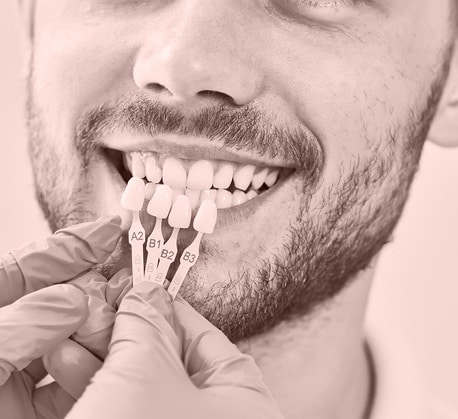 As dental professionals with extensive experience, we understand the importance of high-quality methods, products, and results. That's why we provide both in-chair and take-home teeth whitening solutions to help you feel more confident about the process.
In-Chair Teeth Whitening
If you are exploring teeth whitening options with a licensed dentist like us, it's best to seek an in-chair solution. At Good Samaritan Medical & Dental, we supply convenient in-office teeth whitening for immediate results. It's one of the safest and most effective ways to brighten your smile.
Many of our clients seek fast teeth whitening solutions with minimal effort. Accordingly, our in-chair teeth whitening is simple, convenient, and surprisingly quick. Our dental professional offers in-chair teeth whitening that is:
extremely effective
administered by a trained dental professional
quick, easy, and painless
Combining our in-chair teeth whitening services with other dental solutions also makes other dentistry work more convenient for you.
Take-Home Whitening
If you would prefer to use a take-home option, Good Samaritan Medical & Dental is happy to provide the kit and instructions for you. Our take-home teeth whitening allows you to apply the treatment over multiple days or weeks to gradually whiten your teeth at home.
Our dental team develops custom trays tailor-made for your mouth. It improves the effectiveness of our teeth whitening solutions and ensures full coverage. Don't hesitate to get in touch with and Good Samaritan Medical & Dental for convenient solutions for whitening your teeth.
The Benefits of Teeth Whitening at Good Samaritan Medical & Dental
Our teeth whitening services include a few advantages for our patients, including:
a broad range of teeth whitening options
safe methods and products with dental professionals
reliable teeth whitening effects
quick work for a brighter smile
a boost in confidence
Good Samaritan Medical & Dental has many happy teeth whitening clients throughout Sydney and our friendly dental professionals will brighten your day.
Whitening for Sensitive Teeth
If you have highly sensitive teeth, the whitening process might be intimidating. Many generic whitening strips are painful on sensitive teeth, but Good Samaritan Medical & Dental can help you avoid those sensitivity problems with customised solutions. We work closely with our clients to develop teeth whitening strategies that reduce sensitivity, so be sure to let us know what you need.
If you're ready for high-quality teeth whitening services, contact us today at 9522 3313 today to see how our dental team can help you.